We packed our bags, sun factor 20, bathing suits and of course our amps, guitars and our not inflatable drum kit and other gear. So we were ready to go and ready to rock.
We went away at 5am, sadly enough we couldn't reach Rik because of his disfuntional telephone network, so thanks guys, but as with every story this one has a happy ending. Manon picked up Rik with Henk and Ingrid while in the meantime Martin with Karin and Margriet hit the road. We went in two cars going to pick up our Rebelvan [tourbus] in Germany - why aren't they available in Holland anyway??
Of course there wasn't a slight misunderstanding so therefore Martin, Karin and Margriet were almost in Saarbrücken instead of Koblenz, but at least we had a lot of fun sightseeing, so it just ended up as a three hour sightseeing tour and then we finally were at Dierdorf.
Having been slightly delayed, quickly we removed everything from the two cars into the Rebelvan and now we were finally ready to go and nearby Saarbrücken again, this was a city that would haunt us to the end of our days. We drove all day to Perpignan and we were glad when we eventually arrived at our Etap hotel. We slept like angels, which was hard to tell if you'd seen us the next morning with puffy eyes, messy hair and bad breath. After putting on our small, well-organised beauty cases after the boys had put on their masculine sports bags we were ready to go to sunny Spain
After driving through the following schedule, the weather from Holland was hunting us, so from the 53 days that they expect rain in Spain, we happened to pick three of them. and that started on:
08-04 - Friday - Stereo club - Alicante
09-04 - Saturday - Sala Gamma - Murcia
10-04 - Sunday - Xtreme -Aretoa
This looks very impressive when passing through at 120 km/hr
- Friday 8 th April -
We drove for some hours, enjoying all the nature that Spain had to offer, but when we got closer and closer to Alicante we saw strange things happening... where you normaly see trees we found flats, huge ones... and then we found out that was Benidorm...we were still in shock...we could almost smell Friet van Piet..
After we recovered from that shock we came finaly to Alicante...and then what?
Loads of one way traffic so it wasn' t easy to find your way upthere, so after a not to determain time driving through the streets of Alicante we decided to ask for some directions and of course we invited her to come over to the Stereo Club.
Gladly Henk and Rik has such a trustworthy face that they found a girl who stept into the van and give some directions to the Stereoclub
Glady enough the hotel was very close by, just like the parking place for the bus. In the meantime, it started to rain cats and dogs, so that was promising for the evening! What was also very strange was that there was no toilet paper in the toilets and from a reliable source we heard that people do other things with the toilet paper than they should... ?!
Through pouring rain, we went to the restaurant, had a lovely meal - some random Spanish/Italian stuff -
Glad to see that our poster was there....
At least we knew that Dutch men weren't afraid of getting drenched because even through
the bad weather the Dutch fanbase arrived and we were happy also see our guide join the throng.
When we hit the sack, Martin, Rik and Ed were exploring Alicante from dusk till dawn.
-Saturday 9th April-
The next morning, a miracle happened - we thought it would never happen, but it stopped raining...
Well, we were glad that we didn't need the boats...but we wouldn' t mind having one anyway...
so we didn't have to surf through the streets of Alicante, but just flounced around on the promenade.
And now it was coming to the time to leave Alicante and hit the road to Sala Gamma in Murcia...
Let's goth and roll....
It wasnt only the traffic signs
that led us to Murcia
... blessed be...
Of course even this time we weren't lost...and the guys weren't bored while waiting to be rescued from this "godforsaken" (?) place.
And even this time we were rescued by some trespassing women who led us to Sala Gamma...
Having arrived in Sala Gamma we met the guys from Skunk DF, who played there that evening as well...we were looking forward to it, and when we entered Sala Gamma it seemed to be a huge venue, quite impressive, with two stages and a moving partition ... we where thrilled...until the moment when we heard that they were actually using the partition and split the venue in half...
So then it became clear that we would play together with Skunk DF, but both in our own venue.. and on the same time... and that was a shame, specially after we heard their album, and we played that one many times on the way back...
Finaly our support act arrived two hours too late... and without any backline... !?
Again there´s something about toilets here as well, we couldn´t lock them.. why?, we asked... and it seemed that the toilets were not used for what they were supposed to be used .... (?!)
In the end size does matter, especially when we´re talking about drinks...
After this night we where ready for a desent sleep, ofcourse in a hotel we couldn't find on our own, so we where very glad that we had some assistance in that one. Two rooms one with the five beds, so no complains and sleeping like faeries on the moon.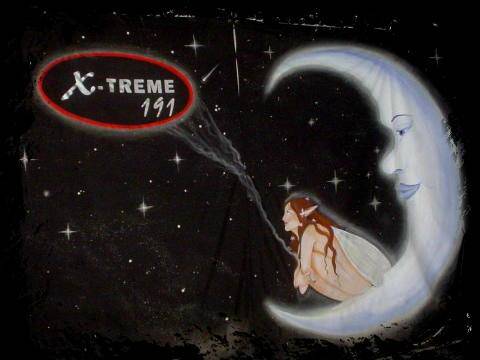 - Sunday 10 th April -
The day after we had a long drive to Aretoa, crossing through Spain watching almost all Lord of the Rings movies with clouds on our tails. And so here as well as soon that we entered the venue X-treme it started to rain, sounding a little bit to familiar. The sound check was cool, actually freezing and that stayed that whole evening. We where glad that we had some warm burgers and some cold salad for our veggies.
A night to remember, playing with sweaters on with the sounds of poring rain on the background.
Thinking about a warm bed became a temptation and we where glad when that dream came true.....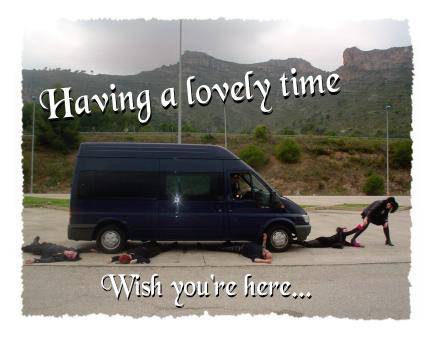 Going home again ... time just flies when you're having fun......
Drove more than 4900 km in five days.... a HELL of distance each day...
Just the way he likes it
Drummy crashes all the time,
for deadly Diva to shine
No one is without sins..
and she isn't a girl without synths
Never been caught
dead on the job.
In (mostly) rain and sunshine, this girl was making overtime