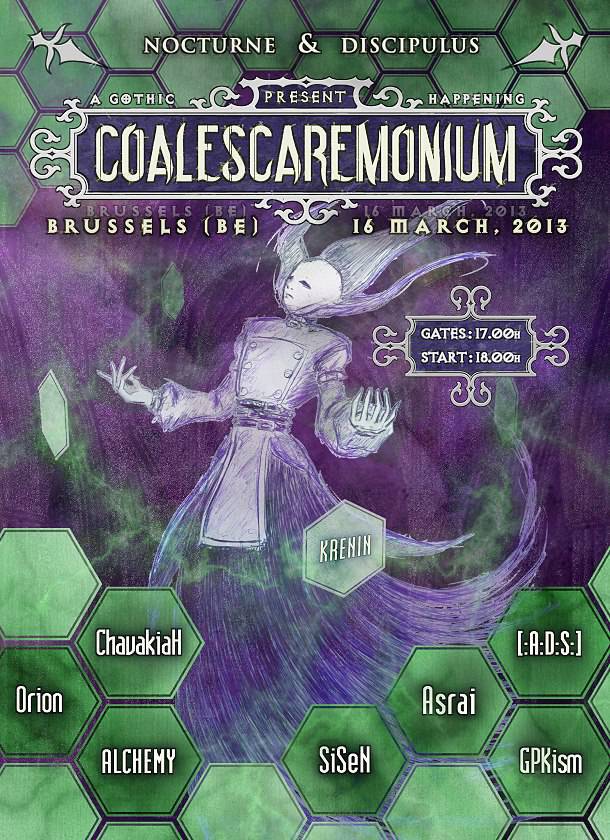 A blend of several Gothic experiences. with Asrai, SiSen, Chavakiah. Alchemy, Alexander Krenin, Gothique Prince Ken, Aesthetic Dance Society, Orion, Nocturne and Discipulus, Veerle, Laurent and a great light show by Yoshi
A wonderful venue, a good atmosphere. Enthusiastic people, wonderful outfits, good Belgium beer and for us the best fans in the world ;)…
We played at the first edition of a new Gothic event: Coalescaremonium.
What more do you want, here is a small impression ….
This was the last gig that Martin will join us on stage, He decided to go on....
Martin, thank you for all the best you had to give, the fun, the music and
you just being you... x
Asrai was invited for the 44 th edition from the radioshow Ongehoord.
With our host Leen Steen.
This edition is all about Asrai, the gothic rock band from Schiedam.
An interview (in Dutch) with Margriet and Karin and our new bandmember Jett.
You can hear some new songes from our new EP Between Dreams and Destiny.
And we added songs from bands we were on tour with, and/or we really like to listen to.
We had a lot of fun in the studio, and time did really fly. Had a really nice interview with Leen, and we took the time to make the most silly, and funny jingels for the show. Leen thank you so much for everything....
Get ready in no time, rent a van and up to go to Belgium
When Jett joined the band we prommised him a small cozy welcome party, well he got his party...
A week before Metal Female Voices Fest we got the question if we wanted to replace a band who cancelled. It is a while ago that Asrai joined the stage at Wieze, but the audiance is alway great and it is a nice festival to play, so it did not take long to say yes..
We had a good trip and it was nice to be back again. To see so many new and so many familiare faces. This time they really improved the situation back stage. Now there was a big stage behind the stage so we had plenty of room to do a good and quick change over. The crew was great, the stage was awesome and we were ready to rock....
Last minute Dutch dark gothic band Asrai is added to the program, replacing Visions Of Atlantis. They aren't touring that much, so it is a nice surprise to see them in Wieze.
Immediately Asrai grabs the attention, their sound is fresh and heavy at the same time. There is a new face in the band and recently EP 'Between Dreams And Destiny' is released. Some new songs are played and the general impression is a heavier, darker sound.
The show is dynamic and vivid. The circumstances are harder on such a big stage; there is less frontlight and that makes it harder to follow the movements of the band members (especially the keyboards and drums are hidden in the dark).
Her movements are very expressive, carried by the catchy melody. Add a rising beat and drums of Karin Mol and there is immediately a strong interaction.
The whole day the venue is half empty, the real fans are gathered in the front but many people are walking around. During Asrai it is finally more crowded in the back, it's after five so the camping is awake too.
For many the first Dutch band is a real highlight....
Text: Silvia Deurwaarder
Stay With Me' is a well-known song and its soon crowed in front of the stage. Magriet Mol is a strong frontlady, not only having a great voice but also reaching the audience easily with her performance.
SetList
1. Ghost
2. Delilah✧s Lie
3. Pale Light
4. Stay with me
5. Overworld
6. All seems so Hollow
7. Awaken
8. Stone Cold
9 Sour Ground
10. Shadows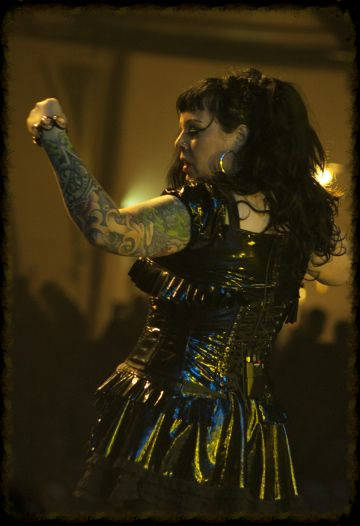 The best of this festivals is the fun, the fans and so much more...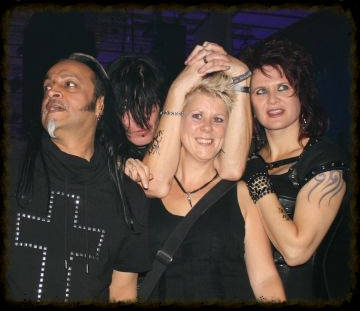 This time we played at the Flora Theater a cozy venue and perfect for our lazy Sunday gig.
No age restrictions and it is great to see some of our next generation.
Candy and Dark Notes...
Let the party begin..
Eindhoven Metal Meeting, a legendary Metal festival, with a lot of great bands .The Effenaar is a nice venue and we are looking forward to play here. Everything packed, the van stuffed, although we take as less with us as possible. What was a good decision, the parkingspace is stuffed with tourbusses, and is not big enough to give all the bands a parkingspot. So loaded out as quick as possible and get the stuff up to the dressingroom, and find a good spot to park.
Backstage is a really good athmosphere, meeting old friends, got to know some really nice people, good food and working on our condition by walking up and down the endless stairs.
It was great to see so many familiar face in the crow and we had a good time on stage. We packed up quickly to make room for all the others to come, and found out that we had problems with the car.
So pushing the car on our high heels to get on the engine working. Jumping in and go home after a really nice day.