Today we play at Aalst Rockt at the Oktoberhallen.
We're on the second stage, wich we're charing with bands like Imperia
and Leaves Eyes.

Played together with Silver Mist and Darkwell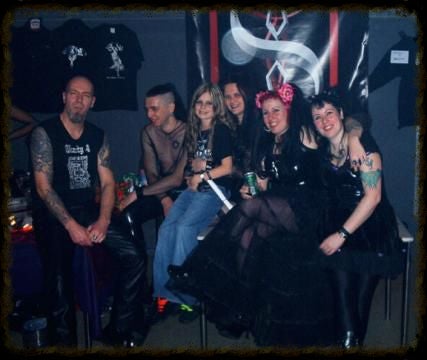 12 November 2004 Prey & Asrai
Tonight we will play at the Gothronic festival, what will take place at de Gloppe - Leeuwarden. together with Prey.
Shame that Karin has a plumonia, so with our friend paracet we went on stage gasping for air.....
19-11-2004 ,...Fenix in Sittard. Together with Crystal Entity
When we arrived at the Fenix there was nobody who could open the door. We had to wait untill the soundengineer open the door. Lucky for us after we set everything up and did our soundcheck, the volentairs finaly realized that they we're not the only one inside the builing.
London calling, so what could we do?
We couldn't resist the call, packed our bags and respond to that one. We had been there before, actually many times, but never played our music over there. So it was about time to change that. But not only for London, it should be a mini tour and this was our plan:
26-11-04 - England - Sheppard - Doncaster
27-11-04 - England - Greenroom - Redruth
28-11-04 - England - The Underworld - London
Follow us by clicking this
link